This is the big one.
Unless you've been living on another planet, you already know this is the most unpredictable, unstable and consequential election in living memory. We don't have to rehash the particulars of the choices at the top of the ticket — a political insider with experience as first lady, senator and secretary of state weighted with baggage vs. an erratic reality TV star.
In North Carolina, there are other reasons this is an important election: It's the first time since 2008 that contests for president, governor and US senator are all on the same ballot. And alll three races at the top of the ballot in North Carolina are razor-thin. That means, of course, that every vote makes a difference.
This year, along with candidates for US Congress and state General Assembly, seats for Council of State, state Supreme Court, county commission and school board are up for reelection, along with judgeships from court of appeals all the way down to district court. 2016 also marks the first year that Winston-Salem City Council elections are timed to coincide with presidential election years. Not least important, voters in Forsyth County have the opportunity to vote on a $350 million bond to pay for new school construction, and Greensboro voters will consider four separate bonds for housing, parks and recreation, transportation and community and economic development.
Early voting is already underway. Depending on where you live, check out the respective websites for the Forsyth County Board of Elections (forsyth.cc/elections) and Guilford County Board of Elections (myguilford.com/elections/) to find specific times and locations, and to view your sample ballot.
Study your options carefully. How you cast your vote may well determine the future of the republic.
President (open seat)
Donald J. Trump (R), Hillary Clinton (D) and Gary Johnson (L)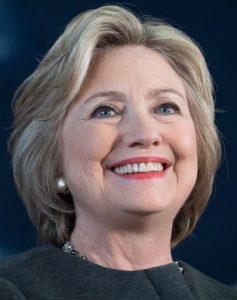 North Carolina is very much in play in the presidential race. Democratic nominee Hillary Clinton is shooting for a sweep of the swing states, and Trump can't win the race without North Carolina's 15 electoral votes. Gary Johnson, the Libertarian candidate, makes the ballot here as well.
Is it possible that there are any undecided voters still left in our state that are looking for information on these candidates?
Very well.
Clinton, a former lawyer, has been involved in politics since volunteering for Barry Goldwater's run for the GOP presidential nomination in 1964. She's been first lady of Arkansas as well as the United States, served as a US senator from New York and as secretary of state. Her platform, as stated on her website, includes nods to income inequality with a higher tax on corporations, Wall Street banks and the 1 percent; and racial justice as expressed in positions on gun regulation, voting rights, immigration reform and inequalities in the criminal-justice system itself. Detailed positions on more than 50 issues are spelled out on her site, mostly conforming to a progressive agenda.
Trump, a businessman and reality-television personality, lists as his top positions cybersecurity and veterans' benefits, both of which he'll transform by creating or overhauling departments. He wants to renegotiate our international trade deals, eliminate domestic regulation that "kills jobs" and build a wall between the United States and Mexico. His economic plan lowers taxes across the board, but will eliminate "special-interest loopholes" to cover the balance. And he favors a heavy-handed approach to the Middle East, suggesting that we invade and "take the oil," possibly with the aid of nuclear weapons.
There's more.
Trump's personal style and brusque demeanor —he's insulted and berated more than 281 people and institutions since he announced his campaign, according to the New York Times — has lost him support within his own party including former RNC head Michael Steele, Mitt Romney, Jeb Bush, Michael Bloomberg, Christine Todd Whitman and dozens of other prominent names. And his casual remarks about sexual assault remain an issue for his campaign.
Johnson runs on a standard Libertarian platform, with elimination of "wasteful spending" after a line-item overhaul of the budget, a consumption tax and term limits, among other small-government stances.
US Senate
Richard Burr (R, i), Deborah K. Ross (D) and Sean Haugh (L)
Richard Burr, North Carolina's senior senator who chairs the Senate Intelligence Committee, looked prepared to cruise to an easy reelection to a third term as recently as six months ago, but Democratic challenger Deborah Ross, a former state lawmaker, gained traction with a platform emphasizing economic security that was strategically segmented to reach seniors, families and young people.
Burr has waged a low-key to invisible reelection campaign while dancing an awkward tango with the toxic candidate at the top of the Republican ticket — he received appointment to Trump's National Security Advisory Council in early October — easing Ross' path. By mid-summer, North Carolina was ranked as one of only a handful of states needed by Democrats to regain control of the Senate, assuming Clinton wins the presidency. (If Clinton loses, the Democrats would need an additional seat to prevent a Republican vice president from casting the tie-breaking vote in the Senate.)
To retake the Senate, Democrats need to hold onto their seat in Nevada and pick up control of three seats currently occupied by Republicans. Illinois and Wisconsin look to be in the bag as pickups for Democrats, according to FiveThirtyEight, and Missouri and New Hampshire hold the strongest potential to round out the complement. That means North Carolina is a little less crucial for the Democrats, although FiveThirtyEight predicts it's "likely to go down to the wire."
The two campaigns have sparred in TV ads over Ross' position on North Carolina's sex offender registry, with Burr accusing her of opposing it as director of the state ACLU. Ross acknowledges raising some concerns about the registry, but argues that she later voted to strengthen it as a member of the state House. It's unclear how much attention North Carolinians are paying to the issue — or the race in general — and the outcome may well come down to the coattail effect of an electrifying presidential race.
Libertarian Sean Haugh, who appears in YouTube videos candidly chatting at his dining-room table while drinking craft beer, is campaigning on a platform of ending foreign wars and reducing the size of government. He polled 3.7 percent in the 2014 Senate race between Republican Thom Tillis and Democrat Kay Hagan — greater than the margin of difference between the two major-party candidates — potentially allowing him to play the spoiler role again. [Read additional coverage here.]
READ MORE >>>