by Nicole Crews
Mother: Have you recovered from the nuptials?
Me: Yes. I think so. I was surprised I hadn't heard your commentary yet.
Mother: I was waiting for the last grain of rice to fall.
It's been a banner year in the land of death. I, personally, have given more eulogies and attended more funerals than a Baptist preacher in a coal mine. Parents of friends, retired colleagues, friends treading treacherous waters, children of friends and even the newly born have not escaped the grand and sometimes grisly exodus we all eventually face.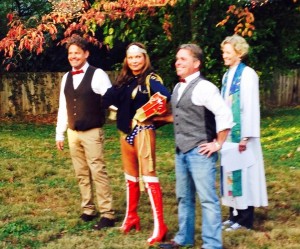 Mother: Where are you going all dressed up?
Me: I've got another funeral.
Mother: Don't be like me and outlive all of your friends.
Me: You've still got me mother.
Mother: Nicole, you're my child. Not my friend.
This most recent funeral was that of Jane Slate Brooks, mother of my dear friend Frank Slate Brooks. It was expected. She was waning. That didn't make it any easier for Frank who is a dutiful son and Eagle Scout of life. What did make it easier I believe was the well-upholstered cushion of friends that Frank has surrounded himself with — a curated mix of colorful, comfy characters who are there for him in sickness and in health.
The best of those is his partner of 18 years Brad Newton. The couple met at a party those two decades ago and eyeballed each other's black high-top Chuck Taylors. Frank was — and is — matinee idol handsome and Brad, with his café con leche skin, curly mop, laconic asides and laser-like baby blues was — and is — just as ridiculously appealing. It was, as appears atop this column, All She Wrote.
In fact, within 24 hours this dynamic duo had drawn up a contract to set parameters for their union. They promised to love and honor each other, respect each other and be monogamous. It was the '90s and about as close as you could get to gay marriage in the continental US.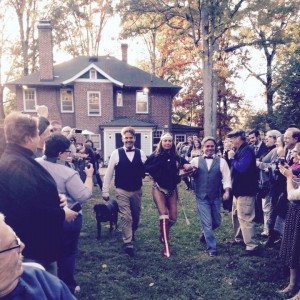 Fast forward through the houses, the dogs, the careers, the ups, the downs, the adventures of FrankenBrad to the second week of October 2014 when same-sex marriage became legal in North Carolina. In true fashion, Frankenbrad were first in line to register for their marriage certificate and the very first gay couple in Guilford County to be wed at the Register of Deeds. The two were married by longtime friend Ches Kennedy, and their besties Ashly Newton Morrison and Eric Morrison stood up for them.
About a week later, I'm in line at a beauty counter having an inane conversation with someone who works there — a foxy moron — and the phone rings.
Frank: Hey, it's me. I have an idea for the wedding.
Me: Oh no. And I thought Brad would be the one to go Bradzilla.
Frank: No. It's good. I want you to give me away dressed as Wonder Woman. Brad doesn't know.
Me: That is hilarious and I will totally do it. And it makes sense. I mean her whole shtick is fighting against injustice and inequality.
Frank: Exactly. We're doing it.
It's another well-established fact that these two can't keep a secret from each other, so with Wonder Woman out of the bag, FrankenBrad decided I would walk them down the aisle of their Lindley Park backyard ceremony site in tandem.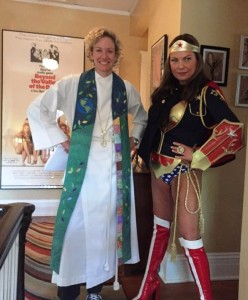 And so, on November 8 at 4 p.m. as 200-plus jean-clad guests arrived, the taco truck geared up and Evan Olson and Jessica Mashburn played Carly Simon's "Anticipation." While FrankandBrad in vests and wooden bow ties mixed with guests, friend and minister Barbara Lea Rice and I hid out in upper bedrooms — each adorning ourselves in proper attire (including a few of Frank's mother's costume jewelry pieces). At 4:30 p.m., Barbara walked the aisle, the music lulled and the soundtrack to the original television series Wonder Woman exploded over the speakers as I emerged with the grooms in tow. The two tied the knot with the golden lasso of truth and Barbara's inspired homily.
But I think Carly said it best: These are the good old days.