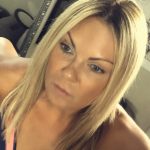 by Nicole Crews
Me (stamping my foot Marisa Tomei-style from My Cousin Vinny): Why? Why? Why are you selling the New York apartment? I'm just getting old enough to use it!
Mother: You just answered your own question, Socrates.
My family has a long and dubious history of bad real estate decisions. They begin brilliantly with the acquisition of an underpriced and up-and-coming piece of pie only to be sold when there's a crusty downturn.
My mother's cooperatively owned, two-bedroom apartment off Central Park is a case in point. An airy, rent-controlled, parquet-floored, pre-war pied a terre optioned by my mother's cousin for decades went condo, and with it so did my mother and two of her furniture-industry colleagues.
"It's an investment," she told my father, sitting cozily in the den of our Davidson County, North Carolina home, "I can write it off."
This announcement didn't seem to evoke any marital discord. Mother was a sought-after furniture and interior designer with much business in Manhattan that brought her to the city on a monthly basis. Where she hung her hat didn't seem to be an issue. Dad was happy to "fly his little airplanes," live in his renovated ancestral home, raise his quirky daughter, have Miss Ruby Mae Wilson run the house with an iron fist and cook collards with fatback when mother was out of town.
None of this arrangement struck me as odd until I introduced an elementary school friend to mother and she whispered in my ear: "I thought your mother was that black lady."
To a degree she was right, but this story is about my other mother, Joann.
So from then on, mother eschewed the big luggage (she had a closet in the city now) and packed her luscious suede carry on and headed to Manhattan every three weeks. Often, under the guise of culture and "exposure" to my elementary and junior high teachers, she dragged me along. Yes, she took me to MOMA, the theater, galleries and exhibits, but more often it was restaurants, cocktail bars, nightclubs and boozy business meetings where I spent my time obnoxiously fanning away the cigarette smoke and surreptitiously sipping cocktails.
The first time I was ever passed a joint I was in line for the ladies room at a now defunct cowboy bar (it was the era of Urban Cowboy and that sort of thing was in vogue) that claimed itself to be "the biggest honky tonk this side of Abilene." I behaved like any sophisticated 11-year-old would. I took a puff and kept on passing.
Mother: Well it looks like you had fun tonight in your new Stetson.
Me: Yeah, I like that place.
Mother: Why are your eyes so glassy? Did you sneak some of my wine?
Me: I have better taste in wine than that.
Mother: I think it's time to get you back to North Carolina, young lady.
Yes, I was a brat — and an idiot. Had I played my cards right I could have had a high school and collegiate crash pad in Manhattan that would crush the living daylights out of any Myrtle Beach getaway my contemporaries had on hand.
She held on for a few more years, but about the time that Billy Idol was rumored to be buying in the building, mother sold her share in that glorious space and went back to hotelling it.
I could feel the leash tightening around my neck — and it wasn't the Madonna choker I had bought in Soho. Probably a good parenting move, but it changed the course of my destiny.
So this week, on the six-month mark of mother's deathiversary I'm heading back to the city.
I've got a thimbleful of her ashes socked away in my carry-on and, barring any interference from TSA — or the doorman — I'm dropping off a piece of her in the city that has informed both of our lives. Once again, she's "going to be a part of it, New York, New York."