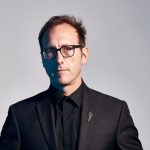 Andy Gross learned to throw his voice by the time he was 10 years old, via a mail-order class that he saw advertised in the back of a magazine.
"Throw your voice!" he remembers. "Fool your friends! Be the life of the party!"
He got so good at it that he could page himself out of class.
This was in the 1970s, when ventriloquism was enjoying a resurgence — Waylon Flowers and Madam, Willie Tyler and Lester — in its centuries old boom-and-bust cycle of popularity.
"There were writings on cave walls about ventriloquists," says Gross. "In ancient times, they might have burned us at the stake."
He also says he might be wrong about that, as there are some gaps in his education.
"I didn't really go to school," he says. "I was making money playing sports my whole life."
Andy Gross performs at the High Point Theatre on Saturday night.
Gross, who grew up in St. Louis, became a professional racketball player by the time he was 15 years old. He was 26 and living in California when, seemingly overnight, the sport went bust.
"Things were going great," he says. "I was in my prime. And racketball just died. Just dead. Worse than ventriloquism."
But at that point, he didn't know how to do much else.
"I started hitting the comedy clubs with ventriloquism and magic," he says. "'Make it funnier,' they said, so I did, and I kept coming back. Pretty soon I was working cruise ships and corporate gigs."
It's taken him pretty far: He's been in show business for decades; during a brief period of popularity for ventriloquism in the 1990s, he had a guest appearance on "Beverly Hills 90210" and was in the "Growing Pains" spinoff "Just the Ten of Us" before it became uncool again.
Now, he says, it's back full force.
"On 'America's Got Talent,'" he says, "three or four of the last winners or runners-up have been ventriloquists. The top shows in Vegas are ventriloquists. It's more popular than ever."