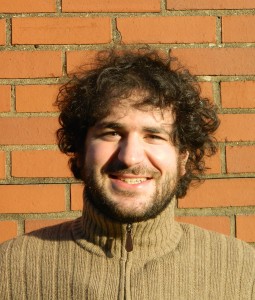 by Anthony Harrison
Senior wide receiver Adam Smith of Guilford College made one of the most insane catches I've ever seen in their early-season homecoming game against the Averett University Cougars.
Senior quarterback Matt Pawlowski, who went an impressive 23-for-27 in attempts, hadn't meant to complete his pass to Smith. I can't honestly recall who the intended receiver was; it all happened so fast. The ball bounced off the initial receiver and seemingly right into the Averett safety's hands. But then it bobbled again, and Smith was there to make the play.
"Our receiver pushed [the Averett safety], and it popped out of that," Smith said after the game on Sept. 19. "I think I reacted quicker than I expected."
The weight of the moment was not on his mind.
"All I was thinking was, 'Catch it and hurry up into the end zone,'" Smith said.
He didn't have far to go, since the scuffle occurred on the one-yard line.
Smith's touchdown reception — his second of three on the night and his 34th in his college career — broke the school record.
The touchdown came at the end of a tremendous drive covering 99 yards split over 10 plays, all after a superb goal-line stop by the Quaker defense after a desperate attempt by the Cougars to convert on fourth down. After Smith's TD and a successful two-point conversion, the score stood at 35-14 with 35.3 seconds left in the first half.
The player responsible for making the two-point conversion: None other than Scottish Enlightenment economist Adam Smith.
The first half saw the Quakers hit first down after first down, moving across the field in a frenzied but efficient blitzkrieg. The smoky haze from the barbecues and food trucks hanging in the mild night air might have resulted from artillery fire if it wasn't for Quaker pacifism.
Guilford College's reputation may lie in its Quaker tradition and writing-intensive academics, but the football program has clearly started on the right foot this season.
After struggling for years and slowly assembling winning seasons, two victories opening this season clinched Guilford's first Division III Top 25 ranking in the school's history.
I'd picked a great first Quakers game to watch.
Guilford College is my alma mater, and over the two years I attended class there after transferring, I never went to a single football game. Never even covered one for the sports section when I wrote for the Guilfordian.
I guess part of the reason was that I was a commuting, adult student. Academics came first, especially since I wasn't part of the on-campus, traditional student body. I was never swept into any ra-ra-ra excitement on Saturdays, but most of my peers weren't either.
Anyway, I'd been through that whole song and dance in a former life at Appalachian State.
Still, Guilford's ascendant fervor clearly infected the community. Attendance skyrocketed to 2,850 fans, partly due to homecoming — you can't achieve those numbers just relying on the Guilford bubble.
One attendee was definitely outside of the bubble: Golden State Warriors point guard Stephen Curry. Curry's uncle, Cleive Adams, coaches the Cougars.
Whether or not he enjoyed the game remains unsure; the NBA's reigning MVP couldn't be reached for comment.
Of course, students still showed up in force.
Two sophomores — Max Furbee and Sam Cohen — epitomized awkward Guilford College wit and intelligence in their chants and heckling.
"Our SAT scores are higher!" Furbee screamed at the players from the Danville, Va. university during the first half.
"They say that in high school, dude," Cohen said.
"We have a sustainable community!" Furbee shouted, promptly amending himself.
They could also be heard chanting Guilford's seven core values: Community, equality, justice, integrity, excellence, diversity and — last but not least — stewardship.
I saw old friends and acquaintances there, from the current Guilfordian editor-in-chief Allison DeBusk to Max Carter, who's somehow retired his way into becoming interim chair of the peace and conflict studies department.
The long-bearded Carter, straw hat always atop his head, seemed happy as ever to see me, and we caught up for a bit before he gave me an unsolicited opinion about the football program.
"We have 19 seniors on the team, and it's all in sync now," Carter said.
Good ol' Max Carter, in many ways the school's unofficial mascot, always reliable for a quote on almost any subject.
But he only stated the obvious truth.
Seniors Pawlowski and Smith connected the whole game, but Pawlowski had other upper-class weaponry in wideout Chad Christopher and running back Josh Schow, both of whom tallied touchdowns.
Not to be outdone, underclassmen showed up, too. Perhaps most notably, sophomore running back De'Eric Bell mixed the best attributes of a bull and a bottle rocket, powering out of tackles and blasting through holes in the Averett defense. He led the team in rushing with 115 yards and scored the eighth and final Quaker touchdown with two minutes and 45 seconds left in the third quarter.
The Quaker defense also ran a clinic on Averett, holding them at 14 points for most of the second quarter, all of the third and most of the fourth. Senior linebacker Daytwyn Rascoe, topping Guilford's defensive stats with 12 tackles including four for loss, even forced a safety in the third period.
The final score: 58-21, Guilford, with the Quakers recording a W in another rousing rout.
They moved up to the No. 24 slot in Division III rankings, and they're probably not done rising.
Their crimson tide has not crested yet.