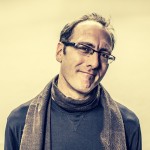 by Brian Clarey
It's a last-minute deal, thrown together after a vague notion on Thursday coincided with a spare couple hours on Friday evening. So we head to Common Grounds as the sky grows dark to see our old friend Marshall Lakes. And we're quite late.
Morgan Miller is well into her set by the time we get to the back room where Marshall has been curating small art installations that lend a Warholian element to the space.
Tonight, while Miller's country croon soothes the grown folks up front and their kids gather in the tiny theater to the side, large acrylics of Yoda, the Hulk and the Flash bridge the gap.
Marshall isn't showing tonight, handing the spotlight off to artist Matari Bain, who holds similar reverence for the superhero canon.
The pieces, the large acrylics and a display of smaller prints, seem to be moving.
Marshall's made a key pivot this year, expanding from the actual creation of art to the necessity of selling it, in the process turning his ambition outward to the long tail of people who can't get enough portraits of Wolverine.
He's been hitting the comic-show circuit, taking advantage of Greensboro's easy access to the rest of the Eastern Seaboard, just a few hours by car in any direction to markets exponentially larger than our own.[pullquote]He's been hitting the comic-show circuit, taking advantage of Greensboro's easy access to to the rest of the Eastern Seaboard.[/pullquote]
He's selling pieces, making connections, building a following with the sort of legwork that all creatives must endure on the path to sustainability, invisible to anyone born without the maker's itch.
Here in town, he's helping other artists grow a culture that he's been in on for a decade. Bain, whose treatment of the Hulk is reminiscent of the work of the Dutch Masters, benefits from Marshall's largesse.
Marshall's other art, deliciously, is martial, from judo to krav maga. For a guy like me, it's an irresistible pun to make.
And just like in the art world, reach is important.
My sister, in from New York, picks up a couple prints. That's what people from New York do, Marshall increasingly finds, as do people from Atlanta, Charlotte and Chicago. Next year, he'll log even more miles following the action that cannot find him here.
Tonight, the intersection of art and commerce is at the corner of Walker and Elam. But Marshall is learning that you can get anywhere from here.