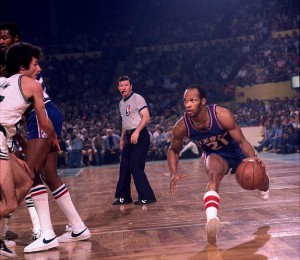 by Eric Ginsburg
Before there was Metta World Peace, there was World B. Free.
It's nothing new to come across a professional basketball player with a highly unusual name. Some were born into it — like God Shammgod — while others like Ron Artest (now Metta World Peace) opted for more amusing titles than they were given.
World B. Free falls somewhere in the middle. As a kid growing up in the Brownsville neighborhood of Brooklyn, NY, Lloyd Bernard Free earned the nickname "All-World" in junior high school because of his ability to nail a 360-degree dunk. And he had a huge vertical leap.
From his start playing hoops at Guilford, Free was hot, leading the small Quaker school to an NAIA Championship during his first year. He was named MVP of the tournament.
He was drafted by the Philadelphia 76ers in 1975, joining Julius "Dr. J" Erving and other stars in a run all the way to the '77 NBA Finals (where they lost).
Free would go on to play for the Clippers, Warriors, Cavaliers and Rockets, legally changing his first name to World while with the Golden State Warriors during the 1981-82 season.
"I saw how things were going and I just wanted the world to be at peace and be free," he said in a retrospective interview with the NBA. "That's why I made that statement with the name change. I told a lot of reporters back then it wasn't self-proclaimed. That had nothing to do with it. It was just a statement."
Al Attles, a NC A&T University graduate, was Free's coach on the Warriors that year. Many remember Free as a flashy guard with an impressive shooting average and big character.
"Free was one of the great personalities of the era," Los Angeles Clippers announcer Ralph Lawler said in a column on the team's website. "In a way, he served as a forerunner of the Shaquille O'Neal NBA persona. He was bigger than life."
In the column, Lawler also recounts a story of Free rapping at a Clippers Christmas party in 1978 while people "were dancing elegantly to Sinatra inside."
He even landed on the All-Star team in 1980, during his time with the Clippers.
Free is still involved in the NBA, though he played his last season about 25 years ago. He is back with the 76ers, this time serving as a community ambassador. It's been a while since Free has returned to Guilford College; an employee in the school's alumni office said, and they've lost touch with the former star.