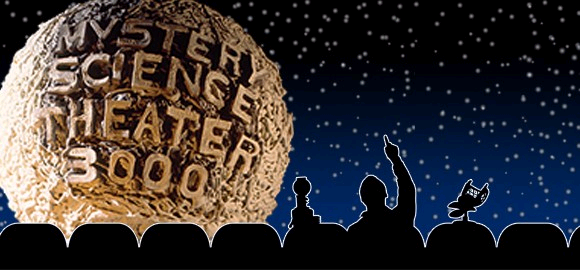 by Anthony Harrison
Perhaps no television show ever endured so successfully on such a simple premise.
The obtusely-named "Mystery Science Theater 3000," or "MST3K," championed the notion, "It's so bad, it's good," by making fun of terrible movies — mostly cheesy horror and science-fiction films from the Atomic Age.
That's all they did. But they did it well.
Despite humble beginnings, MST3K ran for 11 seasons comprising nearly 200 episodes, spawned a feature film and nurtured a devout cult following which survives to this day.
Fans may not have to rely on reruns any longer.
Joel Hodgson, "MST3K"'s creator and original host, launched a Kickstarter campaign intending to crowdfund a reboot of the series.
In the Kickstarter video, Hodgson muses, "We can send 'MST3K' back into the wild… [on cable] or an online platform."
After first viewing the spiel, I did three things almost immediately: I said aloud, "Holy hell — Netflix," pledged enough to receive a metric ton of memorabilia and shared the link with friends.
The campaign didn't excite me alone: The effort raised over $1 million in a single day, nearly half of its $2 million goal to shoot three new episodes. Now all the producers need is an appropriate outlet. And more money.
Reaching the minimum was practically a given; this landmark was met within a week.
But, considering the quick ascent, the campaign slowed. And they aim to make a full, 12-episode season.
The interest and audience must exceed the thousands who have already contributed. And I'm sure some of you, dear readers, may be "MST3K" fans.
As of this writing, the Kickstarter raised $3,437,471; the amount changes steadily but slowly. They'll shoot at least six episodes, which already makes me ecstatically happy. But for a full reboot of the series, they need $5.5 million. Support from as many pledges as possible sends a strong message to producers and executives.
And it's in the nature of "MST3K" to rely on word-of-mouth; after all, this endorsement is simply "circulating the tapes."
MST3K influenced me as much as the Beatles, Ernest Hemingway, Calvin and Hobbes, the Velvet Underground and Steven Spielberg movies. It's one of the reasons I am who I am.
If we raise enough, "MST3K" could resurrect for everyone in the not too distant future.