by Eric Ginsburg
This probably isn't what Shakespeare had in mind.
Two dozen kids — from 10 to 18 — reigned over the corner of the Greensboro Arboretum last weekend, in resplendent blue and purple dresses, mismatched leggings and goofy crowns, and a partial bear costume. A glum kid wore big, black boots, a blond Victorian wig and a mile-long, sheer pink scarf. The steady roar of Wendover Avenue eliminated all but the loudest proclamations, limiting the experience to one of grand gestures and pageantry.
Someone in the audience nursed an open container. Most of the other adults prepared differently, unfolding chairs and sporting half-amused, half-proud smiles.
On any other night in the arboretum it would be safe to assume that the clump of young girls in light-pink dresses with flowers rimming their foreheads, who seemed to wait nervously at a low, wooden footbridge, were part of a wedding party. But these flower girls had sprouted fairy wings. They were here for an even more epic love story — the complex web of A Midsummer Night's Dream.
Skimming Shakespeare's classic comedy of love and lust — a tale packed with idiocy, potions and a more confusing character lineup than "Game of Thrones" — it actually seems destined for middle and high school drama programs everywhere. The play is packed with as much jealousy, hare-brained ideas and whimsy as a school cafeteria. Add braces, some lurching, a bit of over-the-top yelling, a smattering of awkward violence and… voila!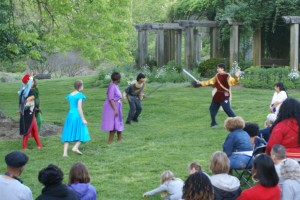 At first it was easy to feel lost in the plotlines, and the production would've benefited from relocating deeper into the arboretum — in the central hydrophytic collection, for example. But the street cacophony and shortened version of the play actually stripped the piece to its raw elements. The City Arts and We Are One rendition of Shakespeare's play easily distilled the lessons of love and left viewers with an appropriate blend of slapstick humor and confused bewilderment, fitting of an emotional torrent multiplying like cancer cells.
The kids did a great job delivering several audible lines — "The more my prayer, the lesser is my grace" — and punches —one actress landed a slap so hard that her friends burst out laughing and several audience members cringed. Rather than evoking danger, a swordfight between petulant opponents proceeded flamboyantly and elicited chortles from observers.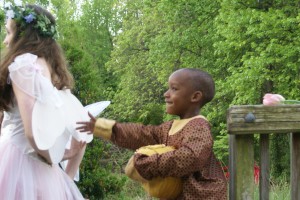 I've seen Shakespeare in the park before, in its elongated form with more professional actors on the Boston Common, but the amateurism of these young actors actually enhanced the dramatic whirlwind of feelings in A Midsummer Night's Dream. Adding to the chaos, the action leapfrogged the audience, stopping and starting in front of and behind parents and friends, even splitting the crowd seated along a walkway like the Red Sea.
The abundant blossoms, lingering sunlight and warmth of three evenings last weekend helped morph May into midsummer. The location and playful acting contributed to a blurred, dreamlike vibe where hazy scenes and characters melted together — an appropriate attribute for a play imbibed with sleep and dreaming
Maybe that's exactly as Shakespeare would like it.