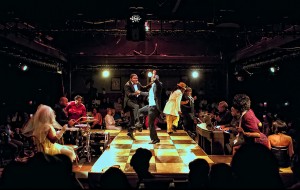 by Frank O'Neill
There are at least two reasons that the Barn Dinner Theater, now celebrating its 50th anniversary season, has been the longest continuously running dinner theater in the known universe. A great buffet and… well, if not always great theatre, then great "dinnertainment." But the Barn's current production Showtime in Harlem: The Music of the Cotton Club Era" conceived by Platinum Entertainment CEO Saundra Adams, and directed by scriptwriter Nate Alston, is exuberant entertainment that also has a sharp but understated social conscience.
A jewel in the crown of the Harlem Renaissance, the Cotton Club was founded as Club Deluxe in the heart of Harlem in, at Lenox Avenue and West 142nd Street in 1920, just after the onset of Prohibition, by the controversial heavyweight champion Jack Johnson. In 1923 a bootlegger took over the club as a front and reopened it as the Cotton Club.
Thereafter through 1936, the venue became a legend in jazz history. Ironically while the club catered exclusively to a white clientele, the roll of black singers and musicians who performed there reads like a Who's Who of Jazz: Lena Horne, Count Basie, Bessie Smith, Cab Calloway, Ella Fitzgerald, Louis Armstrong, Nat King Cole and Billie Holiday to name only a prominent handful. And in the late '20s through early '30s the house band was led by a twentysomething Duke Ellington, who had been hired to compose "jungle music" for the club owners' exotic and racist African scenarios.
Sunday nights were Celebrity Nights, with special appearances by such luminaries as Jimmy Durante, George Gershwin, Judy Garland, Mae West and Langston Hughes among dozens of others
After the Harlem Race Riots of 1935 the Cotton Club moved from Harlem to Broadway and 48th Street, where it continued until 1940.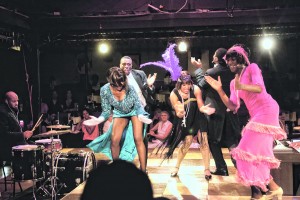 Adams had put together a previous revue, Harlem Nights, but Showtime takes the revue's concept to the next level.
"Nights is a series of sets of songs, but I think of Showtime as Nights all grown up. Since this show focuses on the Cotton Club and that has such an important place in black culture, the show can make a few important observations on how social frustration grew into a new sense of racial pride in the Harlem Renaissance. But the single best reason to see the show is that there are so many great songs that everyone knows and loves. And this production has an incredibly talented cast and jazz trio"
Featured songs include the Ellington standards "Take the A Train," "Satin Doll" and "It Don't Mean a Thing (if it ain't got that swing)" while Gershwin chips in with "I Got Rhythm," "Summertime" and "Let's Call the Whole Thing Off." Billie Holiday favorites "Ain't Nobody's Busines" and "Strange Fruit," inspired by the lynching of Thomas Shipp in 1930, and the Cab Calloway classic "Minnie the Moocher," along with selections from WEB Dubois' poem 'Song of the Smoke" speak to African-American culture and experience.
And if there are still some occasional minor, uneven moments to be smoothed out, Showtime's incandescently vibrant and talented ensemble are quite simply having so much sensuous and flirtatious fun as they perform that the audience can't help but have a great time too.
And let's not forget: There is a meal involved.