by Eric Ginsburg
The lightning bolts were a dead giveaway.
Two guys, most likely in their twenties, stood at the end of the bar at Small Batch Beer Co. and waited for the bartender while chatting with friends. The trademark Harry Potter symbol emblazoned on their foreheads made it obvious what they wanted — another round of butterbeer.
When the small Fifth Street brewery started, the proprietors toyed with different ingredients, using a tool called a Randall. The most popular was a butterscotch-infused hefeweizen, or butterbeer, inspired by the drink from Harry Potter, owner Tim Walker said.
Last week it made a comeback, and a few faithful fans turned out in appropriate garb to sip the sweet beer and watch the original film projected on a screen at the back of Small Batch. As Hagrid led a young Daniel Radcliffe, wearing an oversized flannel shirt, into Gringotts Wizarding Bank, people up and down the bar sipped the honey-colored beer regardless of whether they were watching.
Walker said they initially tried using Werthers, a flavor that immediately came to mind as the aftertaste of my first sip arrived. Now Small Batch runs its Hefe-Vice beer through generic butterscotch candies, then pulls the beer through ice to cool it down.
By the time you read this, it's likely that the only keg of it will be kicked.
C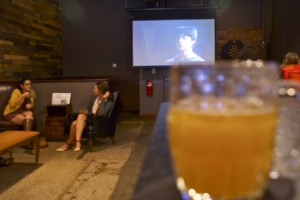 onsidering the primary role candy plays in the beverage, it is impressive that it doesn't come out overpoweringly sweet, instead tasting like a mildly thicker hefeweizen with a smack-your-lips-a-little buttery aftertaste.
I helped make butterbeer once, or a version of it culled from recipes on the internet, with butterscotch schnapps and cream soda. My college roommates and I threw a Yule Ball — true Harry Potter fans need no explanation — and made a punchbowl full of the stuff. That may have been our best party all year.
By the time Harry was fiddling with a chocolate frog and headed for Hogwarts, I was glad to be digging into Small Batch's barbecue pork sandwich with braised pork butt, apples, cheddar cheese and pickled radish. I can't recommend it enough.
I had forgotten how silly Tom Felton, who played Draco Malfoy, looked in the first film, and never realized how much Hermione resembled my sister at a young age. But as Harry, Draco and Hermione settled in at school towards the outset of the film, a woman at Small Batch — dressed in the Hogwarts uniform — switched from butterbeer to something else on the drink menu.
That's the thing about nostalgia — it may not get you that far.
Visit Small Batch Beer Co. at 241 W. Fifth St., (W-S) or smallbatchws.com