by Eric Ginsburg
It's called soft-pedaling.
When a national libertarian youth organization brought its Free the Brew campaign to the Pig Pounder Brewery in Greensboro last week, its team downplayed its message and focused heavily on the fun stuff: beer.
Despite flying several team members down from DC for the two-stop North Carolina tour, the discussion at the packed event on Pig Pounder's porch was designed to highlight how big government is in the way of the craft beer industry. Instead, the 60 some attendees mostly learned about the stories behind Pig Pounder and Mystery Brewing.
Generation Opportunity is technically a nonpartisan, nonprofit organization that aims to reach out to 18-34-year olds about what it sees as excessive government regulation. In an interview, Generation Opportunity's North Carolina director, Alex Johnson, talked about current campaigns around issues that matter to millennials, including craft beer, food trucks and Uber.
"I have a brother that wanted to start a food truck and he realized the amount of regulations he would have to go through and he gave up on it," Johnson said. "We're trying to convey how important it is to young people to have a limited government so [it] can stay out of the way and we can succeed."
According to several left-leaning publications including the Nation, the organization is indirectly funded by the Koch Brothers. On its website, Generation Opportunity decries the Affordable Care Act as a "freakshow" and calls for less government spending.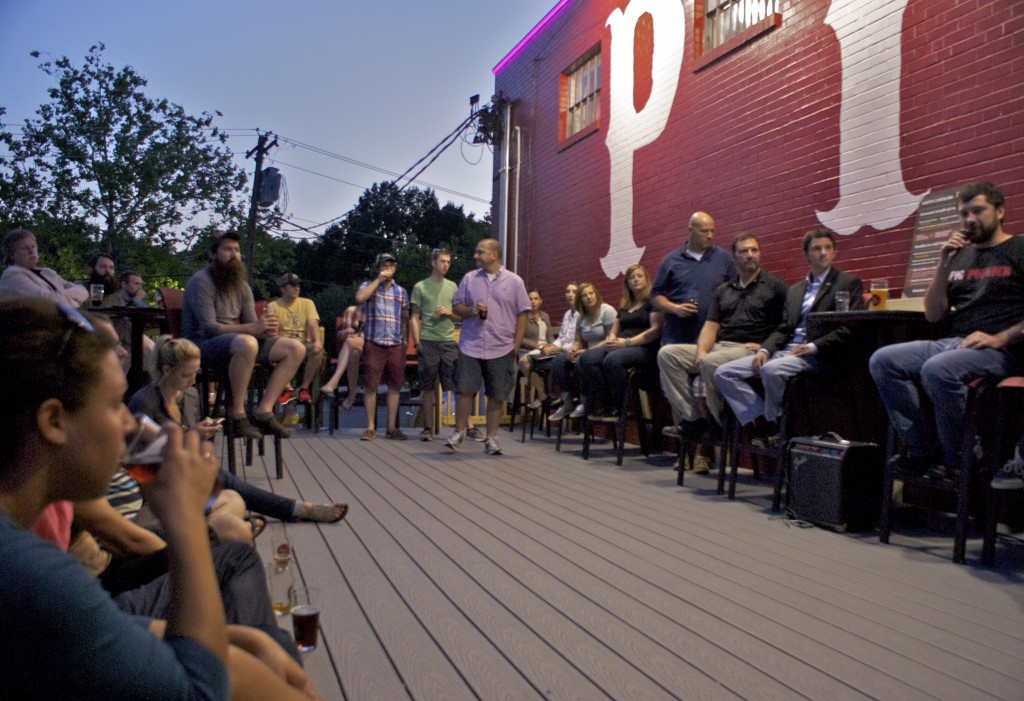 But discussion on the panel lingered on topics the audience likely found more interesting. People sipped complimentary pints and asked a few questions of their own about Mystery Brewing's pepper-flavored beer and Pig Pounder's start-up costs.
While almost all questions from the panel veered away from excessive government regulation, there was some discussion of laws that need changing. The two prime topics were the state's limitations on how many barrels a brewery can self distribute annually and an irregularly enforced labeling law.
Pig Pounder owner Marty Kotis told attendees about how a state law banning breweries from mentioning affiliated restaurants on labels caused a headache at Greensboro's newest brewery, forcing them to tape over a federally-approved label on thousands of dollars worth of growlers.
"My only goal here tonight is to help you avoid some of the trouble we went through," Kotis said. "If you're trying to do things in Greensboro, the good thing is our [city] council is very business friendly… and the state itself is eager to be business friendly."
It might not be enough to keep his future microbrewery ventures in state, though.
"We'll probably look to open other breweries, the question will be whether we open in North Carolina or South Carolina," Kotis said, adding that it partially depended on regulations.
State Rep. Jon Hardister, a 31-year old Republican who represents Guilford County, told the audience about his family ties to Olde Hickory Brewery and the need to update state laws that limit craft brewers. And while several of the state's laws need changing, Mystery Brewing owner and NC Craft Brewers Guild President Erik Myers emphasized that there are actually several important state laws that keep the nation's largest brewers from crushing the crafts.
"North Carolina is really ahead of the rest of the South," he said.