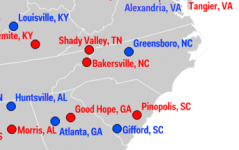 Hold on there Asheville and Chapel Hill — GREENSBORO is apparently the most liberal city in the Old North State.
That's according to Business Insider at least, or more accurately, info from "political data analytics company Clarity Campaign Labs."
The ranking was based on several questions on issues including abortion, gun control, taxes and climate change.
Check out the nationwide chart of the most liberal and conservative towns in each state.