by Eric Ginsburg
There is an octagonal wooden table on the side of a small deck in Fred Chappell's backyard, one of three places in his house where he sits to write.
Years ago he would set up a card table in the living room and write while babysitting his son, but as years passed Fred Chappell grew cranky and lost the ability to focus as intently. From the backyard table, he can hear motorcycles revving up a nearby street, a neighbor's leaf blower and a mockingbird, but he can escape the distraction of human voices.
Chappell, who grew up in the western North Carolina town of Canton, would say he is known as an Appalachian writer, if he is known at all. But Chappell is about as famous as they come in Greensboro.
An award-winning fiction writer, former North Carolina poet laureate and retired professor who taught at UNCG for 40 years, Chappell maintains an unassuming presence.
"I am what I am," he said, sitting at his backyard table and wearing a pair of tennis shoes. "What you see is what you get. I just sit and scribble."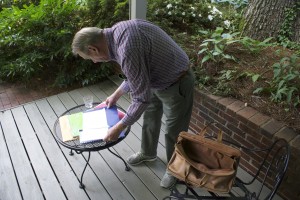 A leather bag that he brings with him to his home workstation is stuffed with tools related to his trade, including a full-sized notebook and a pocket-sized companion. It holds several books he's in the middle of reading — including one of a former student's poems — a manuscript of his own to review before a reading in Asheville the following day, a series of drawings for which he is supposed to write accompanying prose, a fistful of pens and cough drops.
And of course, an "absolutely necessary" rocks glass for wine. The glass only holds water while he is writing, displaced by wine when he finishes.
It's been years since Chappell published new material, but in the decade since his retirement from teaching, he has still spent about the same amount of time on his craft. He taught a little bit of everything at UNCG, covering 36 courses in all. Sometimes it was a little too much, and he just needed to fake it.
"It's a demanding job," he said. "The peace I've been able to find is not putting up with administrators."
Chappell entered academia because he knew he'd need a source of income to support his pursuit of writing poetry and it would keep him close to expansive libraries.
"For the most part I write poetry, and you ain't going to get by on just that," he said.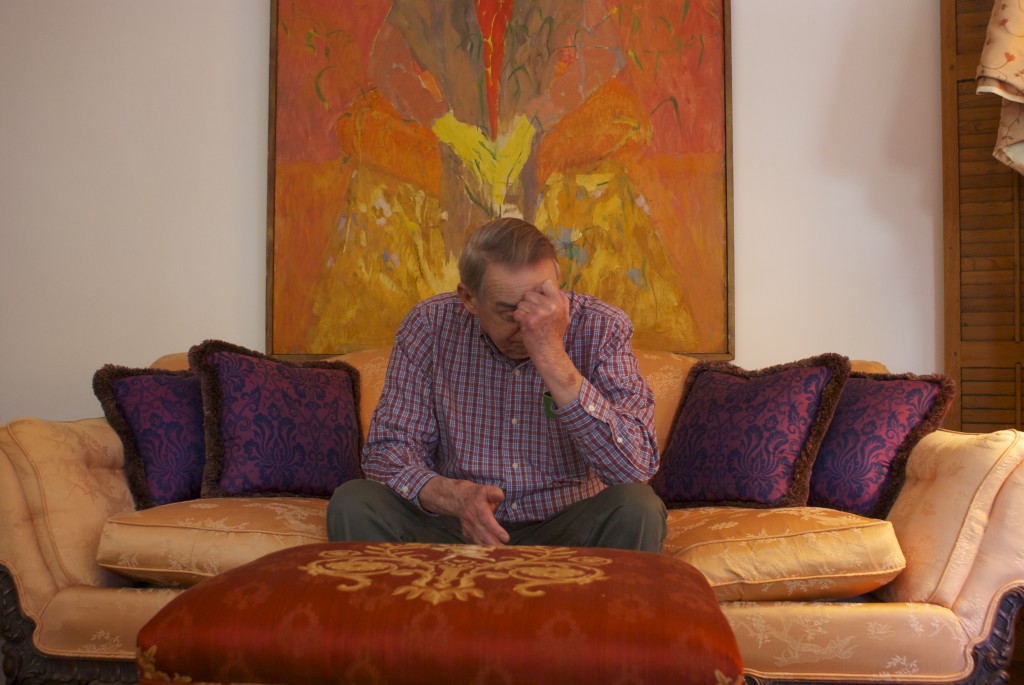 Since arriving in Greensboro to teach in 1964, Chappell amassed a "backlog of students like an army" that have later published work, giving him a seemingly endless supply of reading material to keep him busy, including Maria Hummel's "very depressing" novel Motherland that he highly recommends.
Otherwise, Chappell doesn't keep up with contemporary literature, leaning instead towards the classics.
Soon, Chappell's latest work — a 72-page book of poetry about cats — will be released. Familiars is scheduled to come out on Aug. 4, followed in the fall by a "fancy shmancy" book of his "weird" work put out by a specialty press. And while Chappell maintains he hasn't been busier writing than while he was teaching, he expects his fantasy book A Shadow of Light to be published sometime next year.
But first, the cat poems.
Chappell and his wife, Susan, live in their Sunset Hills home with two shy longhair cats that provided some of the inspiration.
"I've got a little trophy that says 'World's Most Expensive Cats,'" Chappell joked. "You're a stranger and they wouldn't talk to you yet."
Relying on his two felines wouldn't produce enough content, so he did what most great writers do. He borrowed.
"I always watch cats wherever I go because they're fun to look at," he said. "I tried to borrow from people who couldn't sue me."
In addition to scribbling about his companions and cats he encountered in person, Chappell drew from old literary cats in work by deceased writers including George Herman and Christopher Smart.
Some of the poems initially appeared in another one of Chappell's books, a small release with only about 50 copies called Companion Volume. He can't remember exactly when it came out — maybe in 2000 — and as far as he can tell they are going for about $500 these days.
The books aren't just priced steeply because so few were made — the pages are actually made out of cat hair, crafted by Chappell's friend and Greensboro artist Susanne Martin.
"I've got one, pitiful little beat up copy for myself and that's it," Chappell said.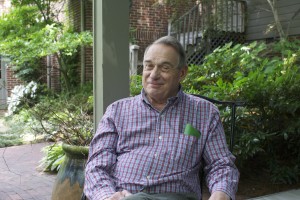 About half of the poems in Familiars will be reworked pieces from the cat-hair book, and like the last one, Chappell partnered with Greensboro illustrator Fritz Janschka, who is 95.
Chappell, 78, has lived in his unassuming brick house, shielded by several low-hanging branches, for decades. A wooden fence and bountiful plants, nurtured by Susan, ring the backyard, creating an alcove where Chappell seems more relaxed.
When Chappell and his wife arrived in Greensboro back in 1964 they didn't own a car, but he was impressed by the kindness of their workmates who "carted us around."
Sometimes he feels like Greensboro has changed enormously since the 1960s, but other times it seems like the city, including its core, has stayed the same. Chappell would argue there are a lot of good people working diligently on the city's wellbeing.
"Maybe the shopping centers didn't triumph after all," he said, slowly and deliberately knocking on his wooden backyard table.
He's always been impressed by the devotion to music in the city, mentioning the Eastern Music Festival and the bygone Cosmos Club. Greensboro has long held up a folk, bluegrass and even jazz scene, he said, including particularly "fantastic" jazz by artists on Sundays at Cosmos Club. Chappell's son, 54, is a jazz musician in Chicago, but Fred Chappell mostly enjoys the role of enthusiast.
"Somewhere I have a dented trophy that says 'Worst Trombonist That Ever Lived,'" he laughed. "Near it is one that says 'Worst Shortstop' and another that says 'Worst Boxer.' I'm a triple threat."
But Chappell contains more creative power than most other writers, even the successful ones, given the demonstrated ease with which he slides across traditional divides. Chappell politely and nonchalantly pushed off the compliment.
"I'm not married to any particular genre or manner of writing," Chappell said. "I would go to a style if the story fell upon me and demanded to be told by me. You kind of have to listen to the story and not to yourself so much."