This morning, as one of the rewards for Triad City Beat's Kickstarter campaign, the paper's editors hosted an investigative journalism class.
In the two-hour seminar, Senior Editor Jordan Green walked seven attendees through various types of document searches and investigative tools. The class covered campaign finance, corporate and nonprofit searches, property inquiries, criminal records and public records requests, among other components of investigative work. TCB editors Brian Clarey and Eric Ginsburg also helped with the class.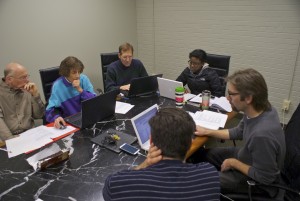 TCB is still working to fulfill some of the remaining Kickstarter rewards, and we thank you for your patience. We're also planning to host future investigative journalism seminars for folks who are interested in learning some of the tools of the trade. Stay tuned, and thanks for your support!
(It's merely coincidental that we held the class on Valentines Day, but we really do <3 investigative journalism.)