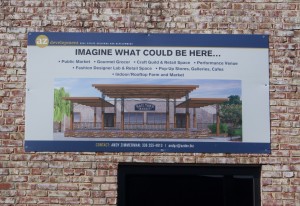 by Eric Ginsburg
Downtown Greensboro property owner Andy Zimmerman is trying to woo Bestway grocery to expand into one of his projects.
Roger Kimbrough, who owns the popular Lindley Park grocery store, confirmed today that he is open to the idea of a potential second location there.
"All that means is I just didn't say no yet," he said. "We're listening."
Zimmerman owns several downtown properties and has a couple more under contract, including the former Lotus Lounge. A sign (above) on the former club advertises his interest in a grocery store.
"I have talked to Roger," Zimmerman said. "There's a lot of models that I'm looking at. That's a dream. I'll start at the top with my dream."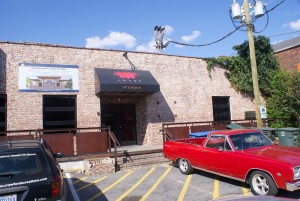 Zimmerman said, after putting the property under contract, that he would love to see something like Saxapahaw or markets like those in other cities where music, art and food come together. It's a huge investment, he said, and the question is whether he can find the right tenants and if it will be supported.
Zimmerman owns the buildings across the street that house Gibb's Hundred Brewing, the Forge makerspace and HQ Greensboro. Downtown residents frequently talk about their desire for a grocery store, though Deep Roots Market did relocate to the north side of downtown, and Zimmerman said he is looking for a tenant that will bring a lot of people downtown rather than simply using it as office space.